Year 5 Trip to Cranleigh Prep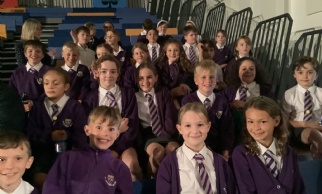 This week, in Year 5 we were lucky enough to be invited to Cranleigh Prep to watch a production of 'I Believe in Unicorns' by Michael Morpurgo .
It was extraordinary! When we arrived, it was great to see some of our old friends from different local schools. When we got inside the hall, along with the 6 other schools, we waited with excitement for it to start. It was so worth it! Suddenly it went dark and we knew it was about to begin. The show had only one actor and she performed in the West End! She told a story about a boy called Thomas who didn't like books. Thomas lived on a farm and then one day he went to the library and he began to enjoy hearing stories told by the librarian and her magic unicorn. After a while, a war started and the library was destroyed, but the local town all came together to save the books and the magic unicorn. The message of the play was about the power of reading to bring people together and to never forget to believe in the magic of kindness. We had a wonderful time!
By Sophia and Tallulah, Year 5